What's New in Act! Premium v25
Act! v25 gives your business effectiveness a boost with the introduction of an advanced dashboard builder and new SMS text messaging capabilities. Easily create new reporting dashboards to gain meaningful insights from your data, react quickly to changing business conditions, and take customer communication to the next level. 
Act! v25 also includes a number of customer-driven enhancements to maximize performance and usability.
Explore what's new in Act! v25
Act! Insight Advanced Dashboard Builder
Actionable insights are vital to business success. Act! v25 introduces an advanced dashboard builder to Act! Insight, which allows you to quickly create more granular, custom analytics dashboards so you can visualize more of your data, gain more meaningful insights, and react quickly to changing business conditions.
New dashboards can be created for multiple pieces of data stored in contact, company, group, and opportunity records, which can be grouped and filtered, allowing users to monitor aspects of their business in Act! like never before.
Active subscribers can access the new dashboard builder by going to Act! Insight, clicking the gear icon, then clicking "Create a chart," and selecting "Create advanced chart."
Integrated SMS Text Messaging
With open rates 4x greater than email, text messaging is an affordable and effective way for businesses of all sizes to extend their reach, stay top-of-mind with customers, and stand out from the competition. 
Act! v25 introduces SMS4Act!, which allows for ad-hoc text messages to be sent to customers anywhere in the world, directly from Act!. Create text messages for any occasion including scheduling, order updates, shipping status, event reminders, promotion notifications, and more, and record the results in Act!.
To get started with SMS4Act!, select SMS from the top navigation bar and click on "Get Started." 
SMS4Act! Is powered by Message Media, a market-leading global messaging provider.
Act! Marketing Automation & Act! Companion Mobile App Enhancements
With enhancements to Act! Marketing Automation and Act! Companion, user accessibility, and the user experience are maximized for all Act! users. 
Act! Marketing Automation enhancements include a new campaign dashboard, new suppression list filters, additional date formats for mail merge, and improved list sorting.
To optimize the overall mobile app experience, we've made a number of enhancements to the login experience, opportunity filtering, and Act! proximity search.
Multi-Factor Authentication
Act! Premium v25.1 introduces Multi-Factor Authentication (MFA) to Act! Premium Desktop, providing an additional layer of security to prevent unauthorized account access and helps organizations comply with data protection and privacy regulations. 
MFA works by requiring users enter a unique numerical code sent to them via text message, in addition to their username and password, when logging into Act!.To configure Multi-Factor Authentication in Act! V25.1 or later, go to Tools > Manage MFA Access and follow the prompts to enable.
Act! Sidebar for Outlook
Experience effortless productivity and streamlined workflows with Act! Sidebar for Outlook, available in Act! Premium v25.2. Featuring a modern interface that seamlessly integrates with Act!, Act! Sidebar for Outlook automatically records email exchanges to history, allows you to add & update contact information, review detailed history records, and schedule activities with one or more attendees, directly from Outlook.
Customers love our award winning software!
"I can really tailor my marketing with Act! Marketing Automation. And once the campaigns are set up, they happen automatically, so I can put more time and energy into other things."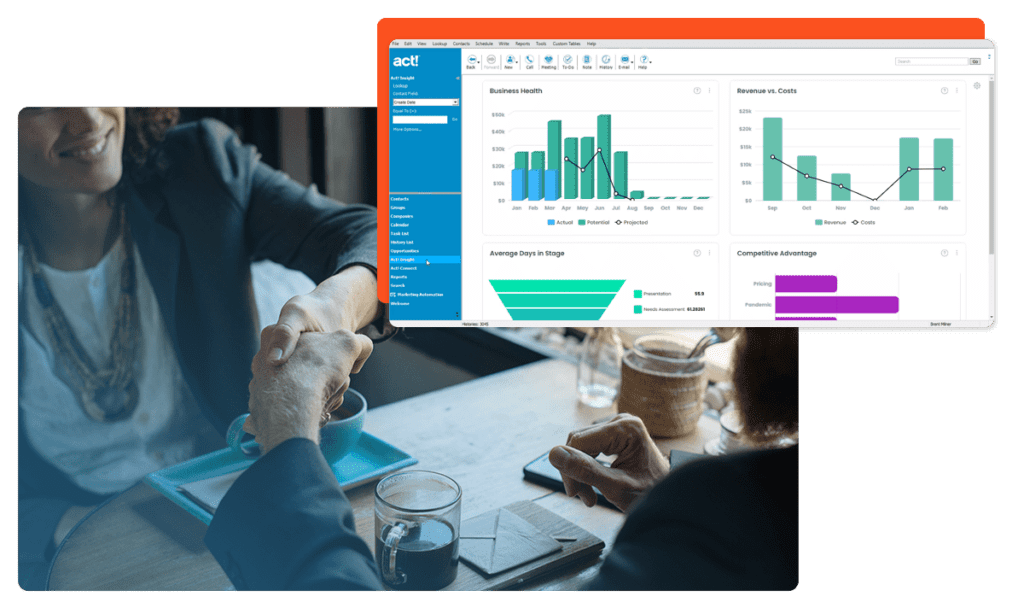 Ready to win customers for life?
Try Act! free for 14 days. No download or credit card required.