Remember when companies used to think remote working was impossible, and team collaboration could only happen in face-to-face meetings?
How times have changed.
Last year, while the coronavirus pandemic unleashed a wave of unprecedented challenges, especially for small businesses, it also forced companies to adapt in ways they never thought possible. Thanks to ubiquitous connectivity, automation, and mobile technology, many small businesses and entrepreneurs were able to survive, and even thrive, in a year of massive global upheaval. 
Remote work saved small businesses
Before COVID-19, many companies frowned upon remote work because they didn't know if employees were really working or just slacking off. However, when remote work became essential for business survival during the pandemic, employees proved that they could work just as efficiently and productively as before (and perhaps even more so). 
In addition to supporting greater business agility, remote work helped companies achieve other benefits, such as reduced overhead costs and greater recruiting flexibility, since many job positions no longer depend on where employees live and work.
The rapid shift to remote work also changed employee expectations. For instance, studies have linked greater flexibility to increased job satisfaction. Many workers found they could achieve a better work-life balance by using their time more productively. For instance, time they can spend time working instead of commuting and stay focused on tasks without the distraction of social interactions and other typical office disruptions. And, since they no longer need to live within driving distance of the workplace, many workers moved out of expensive cities with pricey real estate and relocated to more affordable rural areas where the only requirement for work is an Internet connection.  
Of course, remote work isn't for everyone 
While many remote workers undoubtedly love the ability to go to work in their pajamas, others can't wait to return to a physical workspace because there are too many diversions at home. Without an office environment to go to, many of these workers struggle with a sense of isolation, lack of creativity, overall inefficiency, and inability to separate home life from work life. These workers can't wait to return to a more "normal" routine again. 
Although remote work is not a good fit for every worker or business, it's clear that companies won't be able to rush their employees back into the office all at once. If anything, many companies will need to maintain a flexible, hybrid work environment for the foreseeable future. 
Fortunately, many small businesses and entrepreneurs are already well aware of the trend toward hybrid working. For instance, SMB Group's recent study discovered some interesting trends:
59% of small businesses are expanding their work-from-home programs
47% are investing in technology to support remote workers
51% are creating a long-term strategy for more flexible workstyles 
It's increasingly clear that the future of work is hybrid. Due to the COVID-19 vaccine, social distancing and lockdowns are gradually becoming things of the past. So, what can small businesses do now to prepare for a future that's fast approaching?
Defining the hybrid work model and how to enable it
The definition of a hybrid work model can vary from business to business. Generally, it involves a mix of onsite and remote work. So it may refer to an individual who splits time working in the office and at home, or it may refer to a more general approach where at least some of the team members work in the office at any given time.
While hybrid work may seem like the perfect solution to maximize flexibility and ease transitions for workers, it's important to manage the pitfalls that can diminish the success of a hybrid model. Here are some key things to keep in mind:
1. Clearly communicate expectations. 
Throughout most of the pandemic, many businesses operated in crisis mode and did whatever it took to stay afloat. In many cases, rules and expectations were relaxed to ensure team members had the ability to take care of their personal well being and responsibilities at home during their workday. 
In this new, post-pandemic era, as daily life returns to normal, you should reset expectations among your team members. Moving forward, consider what short-term and long-term changes are needed in your work environment. Will team members need to be more present in the office? If so, how often? Will remote work remain a viable full-time option? When do remote team members need to be online and available? Will you provide subsidies for office workers to equip their home offices? Or will you provide flexible workspaces to accommodate multiple uses, workers, schedules, and needs? Even if you don't have clear answers, it's important to keep the lines of communication open and don't just assume everyone knows what's expected of them in the "new normal."
2. Build a culture of trust. 
Regardless of where your team works, establishing a foundation of trust is essential to maintaining a successful hybrid workplace. Fostering communication and dialog can help ensure transparency between your team members. For instance, regularly scheduled Zoom or video conferencing calls even once per week can help team members get to know each other, sync on project updates, and work through any challenges — conversations that simply don't work as well over Slack and email. The more your team members can get to know each other and learn about what they do in real time, the better equipped they will be to solve problems and value each other's contributions.
3. Acknowledge the potential power differential between onsite and remote workers. 
Workers who spend most or all of their hours in the office can often benefit from the perception of working harder or longer than remote workers, simply because they are more visible. This can create an unbalanced culture that gives onsite workers more advantages and recognition simply because they can collaborate more easily with co-workers and business leaders. This can potentially lead to unfair benefits for onsite workers, such as promotions and pay raises, that leave remote workers frustrated and struggling to feel like they are a valuable part of the team. 
4. Stay flexible — don't draw lines in the sand. 
In most cases, you can meet both business and employee needs by remaining flexible. This past year has probably given you a very good sense of which jobs can be performed remotely and which jobs truly require employees to be onsite. So instead of trying to come up with a "one-size-fits-all" reopening approach to post-COVID-19 hybrid work, take into account the job requirements and preferences of each employee before determining where and when they need to work. 
5. Know how much space you need so you can plan ahead. 
Even small businesses that are fully remote today need to know if they will eventually need a dedicated office space, including conference rooms, in the coming months. Companies that downsized office space during the pandemic will also need to determine if they can continue operating in a smaller space. For many, the answer is undoubtedly yes, because lower overhead costs more than offset the inconvenience of a fully remote or hybrid work environment. However, bridge solutions, such as coworking spaces, can also help small businesses access meeting rooms and office buildings as needed without committing to a long-term lease and other expenses such as office equipment. 
These are just a few key issues to consider as you establish a hybrid workplace. Although no one truly knows if hybrid work is here to stay forever, one thing is certain: The pandemic accelerated the trend toward remote work, and it will be very hard to put the genie back in the bottle. Too many workers now know that remote work is entirely possible, and the overwhelming majority say they prefer at least some flexibility about where they work — and will seek out companies that fully support it. 
Next steps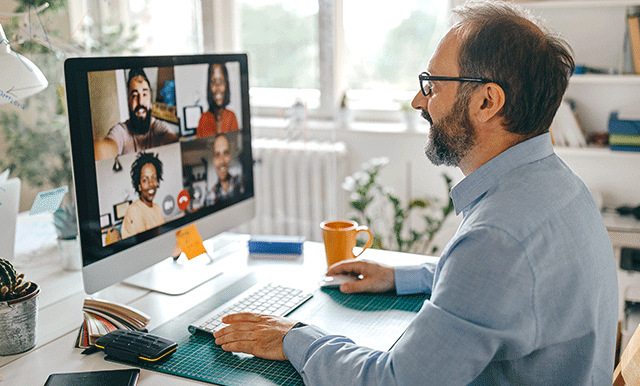 How do you and your company fit into a post-pandemic world? Is your company moving toward a hybrid work environment? What are some of the biggest benefits and challenges for your business? As you consider these decisions, it's important to maintain seamless collaboration with your work team. You can learn about some great collaboration tools by clicking here. 
Want to see how an integrated CRM and eMarketing solution can improve your workflow and sales, regardless of how and where you're running your business? Try Act! for 14 days for free!