Next-level relationships. Next-level results.
Act! is perfect for small and midsize businesses looking to market better, sell more, and create customers for life. With unparalleled flexibility and freedom of choice, Act! accommodates all the unique ways you do business.
Free for 14 days. No credit card or download required.
"Act! has been our lifeblood for more than 20 years — we rely on it for everything."
Corrine Bryson
Founder and CEO
INEX
Attract and engage prospects and existing customers.
Stand out with personalised campaigns and landing pages.
Stay connected to prospects and customers using automated workflows and triggers.
Know what's working and how to prioritise your follow-up with actionable insights.
Sales Pipeline Management
Close opportunities faster and more frequently.
Keep track of opportunities using a suggested or personalised sales process.
See a complete, visual representation of your pipeline and drill into any opportunity for more detail.
Focus your time on your most winnable deals with powerful pipeline insights.
Make every customer feel like they're your best.
Bring your calls, emails, documents, and personal notes into one, organised place.
Find what you need in an instant with powerful search capabilities.
Personalise every interaction with a complete view of your relationship history.
Stay on top of key projects and priorities.
Get on top of it and stay on top of it by keeping track of all customer activities.
Tie every task to the associated contact record.
Know exactly where to focus your time with daily, prioritised task lists.
Connect with the apps and tools you love.
Integrate Act! with Microsoft Outlook, Gmail, Zapier, and Act! Add-ons.
Work from Act! or the other tools you already rely on every day.
Have access to the latest details, because everything is connected, up-to-date, and in sync.
With Act!, you have options.
Act! works the way you do and is available both on-premises (Act! Premium) and in the cloud (Act! CRM Classic).
If you prefer the security and control of an on-premises solution where you decide the timing of updates and upgrades, Act! Premium is a perfect fit!
If you prefer the convenience and peace of mind of a cloud-based solution where we handle all the technical details and nightly backups, Act! CRM Classic is for you!
See Act! Premium in action.
Drill into key feature areas of Act! Premium through a self-guided tour that you can navigate at your convenience.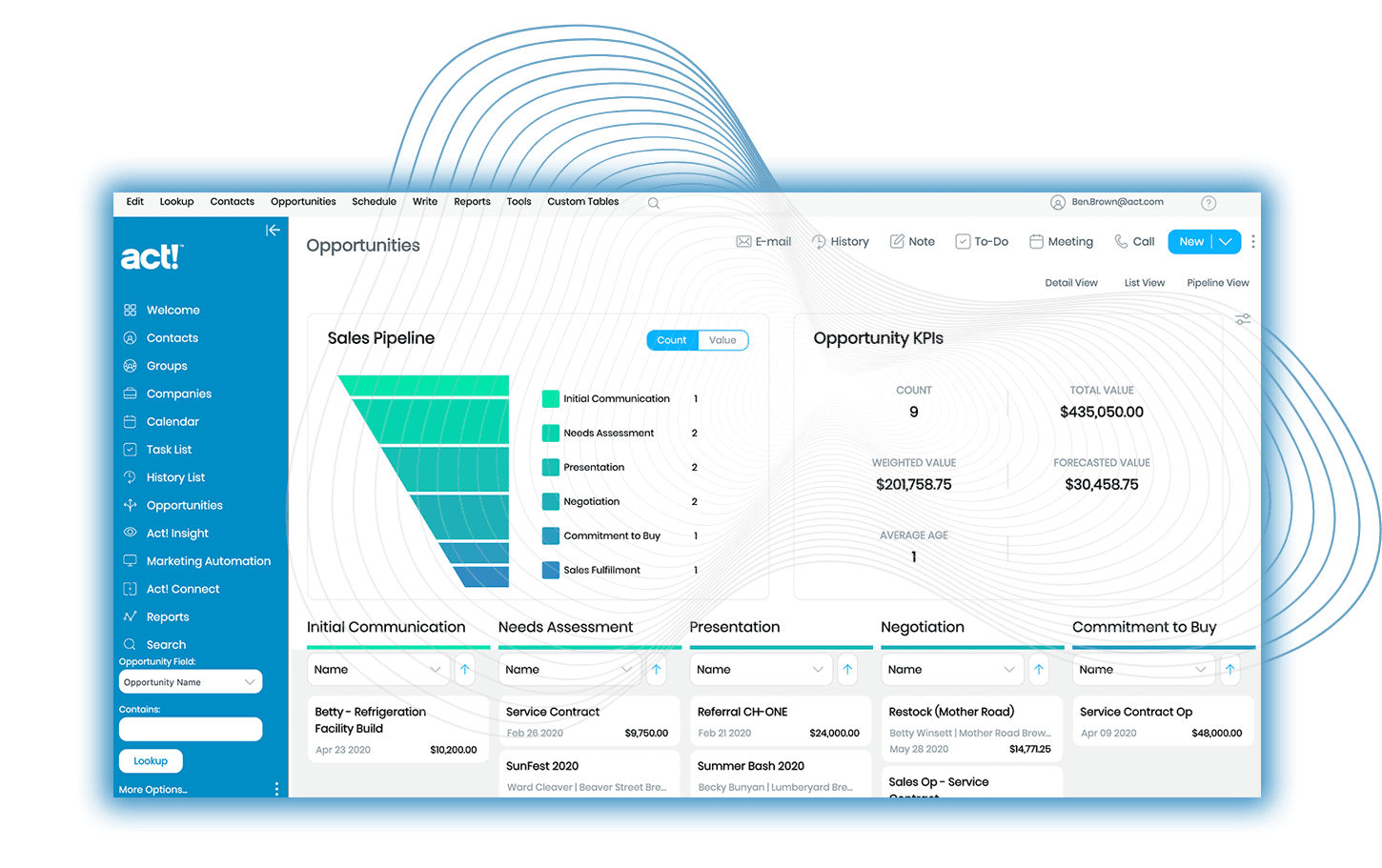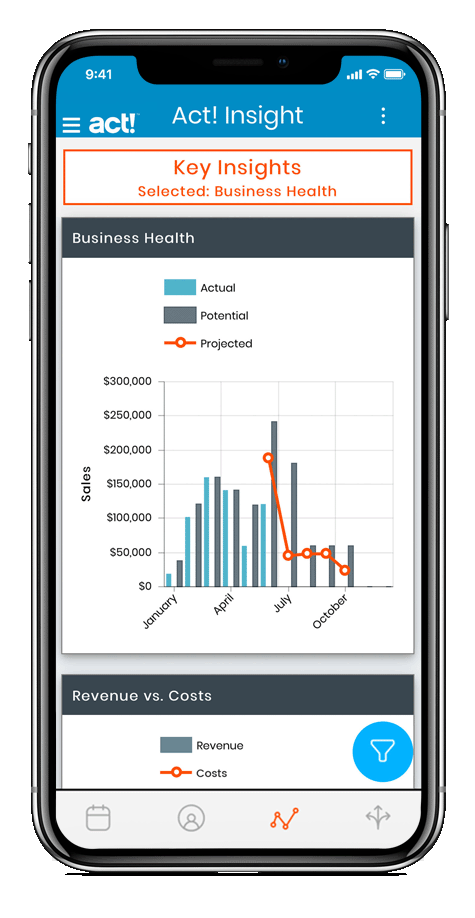 All your relationship details, right in the palm of your hand.
Have access to key Act! details from your iPhone, iPad, and Android with Act! Companion.
Work from your Outlook inbox.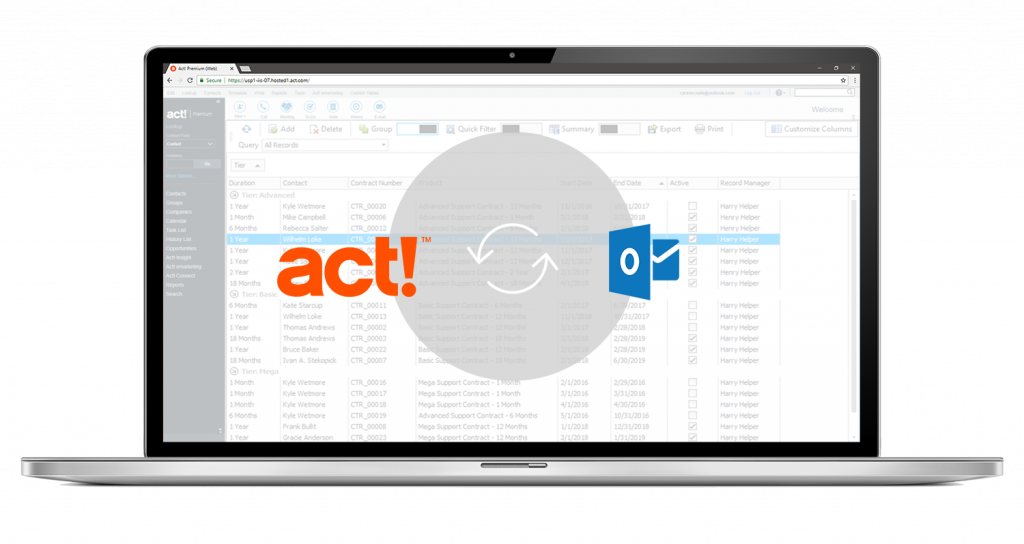 Leverage the power of Custom Tables.
Bring complex data sets, unique business processes, and specialised industry practices together in Act! Premium.
Here for you, every step of the way.
Get guidance whenever you need it with 100+ video tutorials, step-by-step guides, and a helpful Knowledgebase.
Receive product troubleshooting and help accessing informative resources over the phone or via chat.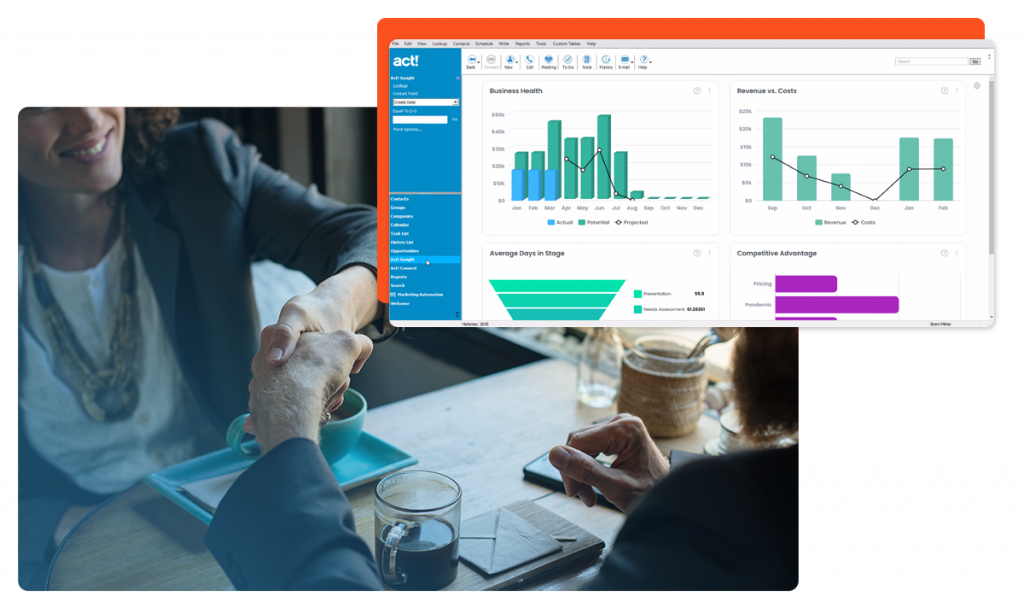 Ready to take your business relationships to the next level?
Try Act! free for 14 days. No download or credit card required.