Using an older version of Act!? There's never been a better time to upgrade! Check out what's new since your version, explore the benefits of integrated CRM and email marketing, learn about the risks of outdated software, and find out why thousands of Act! users like you have made the leap to an Act! subscription!
Using Act! but not a subscriber? Call for special pricing!
Explore the Top 5 Reasons to Subscribe
1. New Features
2. Integrated CRM & Email Marketing
3. Compatibility & 64-bit Architecture
4. Risks of Outdated Software
5. Subscription Benefits
1. New Features
Access to hundreds of new features and enhancements
Unlock the full potential of Act! and achieve your goals with the latest product innovations, usability enhancements, and compatibility updates for increased performance, intelligence, and productivity.
See it for yourself (14 min)
Sales Pipeline Management
Interactive visual sales pipeline dashboard
Drag-and-drop Kanban board for opportunities by stage
Pre-configured and customisable key performance indicators (KPIs)
Act! Marketing Automation
Library of pre-configured email and landing page templates
Interactive template editor for personalisation and customisation
Workflow automation triggered by criteria you define
Real-time performance and engagement metrics
Prioritised, actionable lead follow-up
Interactive visual dashboards for strategic business insights
Sales performance, team and company productivity metrics
Flexible sort, filter and customisation options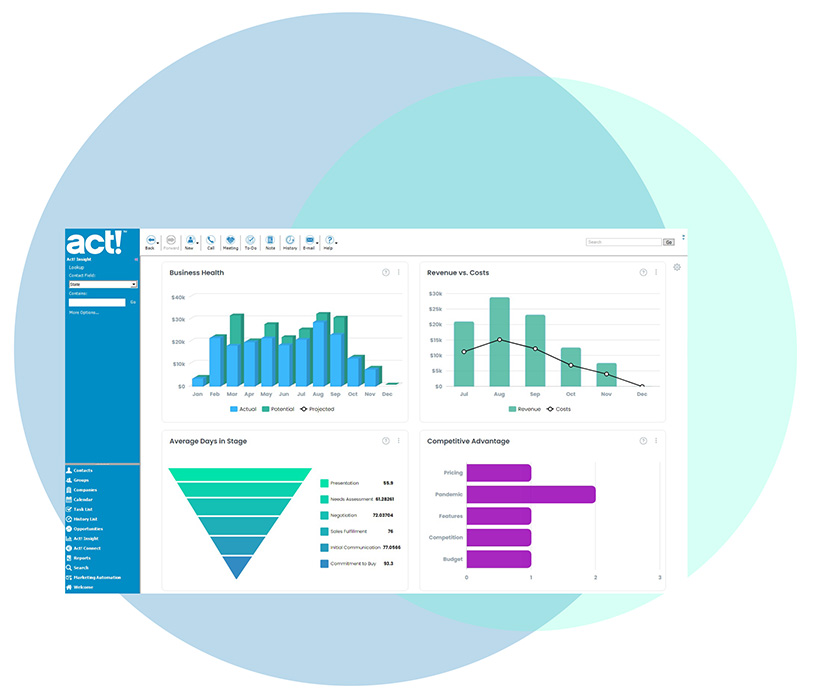 Act! functionality embedded into Outlook toolbar
Archive emails from known contacts into Act!
Create new Act! records for unknown Outlook contacts
Modern UI and Personalised Dashboard
Custom Tables
Act! Companion Mobile App
Performance & Productivity Enhancements
Compatibility Updates
Deployment Flexibility – On premises and Cloud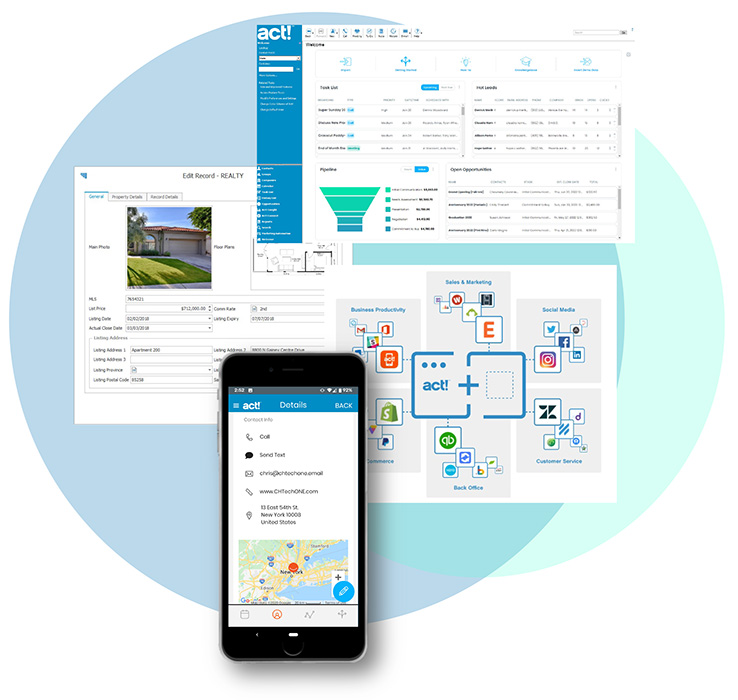 2. Integrated CRM & Email Marketing
Integrated CRM and Email Marketing
Expand your reach and deepen relationships with existing customers – managing the entire customer lifecycle with integrated marketing tools and templates to drive engagement and help focus your attention where it counts.
See it for yourself (12 min)
CRM + email marketing together
Gain a holistic view of each customer relationship.
See real-time results from marketing campaigns within customer records to gain a deeper understanding, as both sales and marketing interactions are tracked together in one place.
Keep your lists and data in sync at all times.
With integrated CRM and Marketing Automation, you'll never have to worry about information being out of sync across two different platforms again.
Turn marketing engagement into sales action.
Trigger rapid follow-up on hot leads based on conditions you define, rather than lose time exporting and importing lists, letting opportunities pass you by.
Grow your prospect pool by directly capturing leads.
Deploy lead capture forms on your web site and landing pages and instantly create new prospect records in your database – primed and ready for automatically scheduled follow-up actions or nurture campaigns.
Reduced burden, increased convenience.
Managing multiple software solutions can be expensive, complicated, and time-consuming. Integrated CRM and Marketing Automation streamlines your workday, reduces management burden, and lowers learning hurdles.
Take a closer look at Act! Marketing Automation in these on-demand webinars and resources.
Reconnecting with Customers in a Post-Pandemic World
Watch this on-demand webinar to see what's new in Act! and the top 5 ways Act! can help you re-engage with your customers and re-energise your business.
Put Act! to Work for You: The Sales & Marketing Assistant You Never Knew You Had!
In this on-demand webinar, we share 3 practical strategies to put Act! to work for you. You'll learn how automation can help you get the most from your investment–turning Act! into the Sales and Marketing assistant you never you you had!
"I can really tailor my marketing with Act! Marketing Automation. And once the campaigns are set up, they happen automatically, so I can put more time and energy into other things." 
3. Compatibility & 64-bit Architecture
Compatibility with current business tools & modern architecture
Capitalise on the inherent benefits of today's 64-bit hardware and operating systems – gaining full access to all available system memory for superior speed, performance, and scalability.
See it for yourself (4 min)
New 64-bit Architecture – Windows & Web
Act! v24 capitalises on the inherent benefits of today's 64-bit hardware and operating systems – gaining full access to all available system memory for superior speed, performance, and scalability.
Multi-task, perform high-load functions, and support large files and data sets without memory issues via access to virtually unlimited RAM with a 64-bit native application vs. 4GB with a 32-bit application.
Windows® 11 & Office 2021 Compatibility
Run Act! v24 on Windows® 11 for the latest usability and security enhancements from Microsoft®. Additional compatibility updates include support for Office 2021 and SQL Server 2019.
Your Act! subscription ensures ongoing compatibility with current hardware, software, and operating systems for maximum productivity and peace of mind.
4. Risks of Outdated Software
Your version of Act! has been retired – don't get left behind!
Protect yourself from the dangers and pitfalls inherent to using unsupported software.  Avoid potentially risky and costly situations involving security, data integrity, and business continuity by always running a supported version.
See it for yourself (3 min)
Top 5 Dangers of old software
Lack of compatibility with current business platforms
Don't get left behind on retired platforms. Ensure the vital solutions you rely on every day work with the latest hardware, operating systems, and browsers.
No access to critical software updates and fixes
Using unsupported software means you no longer have access to updates and upgrades, including critical defect fixes or security patches.
Disruption to your business
Avoid revenue loss and customer dissatisfaction that come along with potential downtime caused by out-of-date, unsupported software.
Risk of security vulnerabilities
Using up-to-date software on supported hardware, operating systems, and browsers helps strengthen your overall security profile.
Loss of access to critical customer and sales data
Your customer data is your most valuable asset. Ensure you always have access to the information you need by to run your business by using supported software.
Is my version of Act! supported?
If you are running Act! v22 or earlier, your version of Act! is no longer supported, and you're no longer receiving critical updates that ensure continued access to Act!. An upgrade to a supported version is strongly recommended. For a full list of retired versions, click here.
Act! Pro v22 and Earlier
Act! Premium v22 and Earlier
*These versions are no longer receiving critical updates!
Versions to be Retired in 2023
Act! Premium v23 – 31/3
Act! Growth Suite v23 – 31/3
5. Subscription Benefits
Access to exclusive subscription benefits that keep you Current, Covered, and Connected
Optimise your entire experience with Act! via a comprehensive subscription plan. Stay current on the latest products as they're released, access the help you need when and how you need it, and gain access to exclusive services for maximum peace of mind.
See it for yourself (3 min)
Stay current with access to product updates and upgrades as they're released.
Access to new versions of Act! when they're released
All product updates and enhancements
Ongoing compatibility with evolving business tools
Stay covered with valuable customer success resources at your fingertips.
Expert technical support
Online training resources and extensive Act! knowledgebase
Onboarding assistance, including Act! database migration
Stay connected to hundreds of apps that extend the power and reach of Act!.
Integrate with popular business tools, including Quickbooks, Outlook, Slack, and more.
Access to the Act! Companion mobile app
Access to subscriber-only features like Act! Insight, Sales Pipeline Management, Act! Marketing Automation, and more.
How to Get the Most from Act!
Top 5 Reasons to Subscribe
Ready to take Act! to the next level? In this on-demand webinar, we cover the benefits of upgrading to 64-bit Act! v24, demo new features including Outlook integration and Act! Marketing Automation, and discuss the value of an Act! Subscription and the importance of staying current—your blueprint for success with Act!.
The future is now…don't get left behind!
The Future is Now - Don't Get Left Behind!
Don't put yourself at risk by running an old version of Act!. Now is the time to upgrade.
To learn more about your upgrade options, call us at 020 3835 2755  or contact your Act! Certified Consultant.
*The 25% discount applies to first year of Act! Marketing Automation paid plans, or for the remainder of the current Act! subscription term. Offer can not be applied to Growth Suite plans or existing Act! Marketing Automation plans. Offer ends December 31, 2022.