Email marketing is when businesses use email to promote their product or service. It is a type of direct marketing, which means the company communicates with the consumer without the help of an intermediary.
Email can be used to build relationships with leads, convert prospects, and ensure existing customers have a great experience. Here are some examples of email marketing and different types of emails that you will recognise from your inbox.
Welcome email series: When a customer first interacts with a company, the business will typically send an automated series of emails explaining more about the organisation and its product. For example, a tech company that offers a free software trial will send informational links to help the customer get maximum value from the tool. Towards the end of the trial, they may send emails focused on converting the person into a paid customer. These emails are highly targeted based on the offer the customer interacted with.
Email newsletters: Newsletters are general emails sent out on a regular basis. They will typically contain company updates and links to blog content or other material the recipient may find interesting. Newsletters are a low-cost way to stay in contact with many people. When a customer interacts with something in one of these emails; for example, if they download an eBook, the business can put them onto a more targeted email sequence.
Start Creating More Meaningful Relationships With Act!
Start your 14 day free trial today. No download or credit card required.
Email reminders: Businesses send email reminders to customers who haven't finished a task they started. If someone looked at a product on an eCommerce store but didn't buy, the store can send an email reminding them to complete the transaction.
Transactional emails such as post-purchase emails: When a customer makes a purchase, businesses often send a series of emails telling them more about the product. Post-purchase emails are essential for increasing customer loyalty, for example, if your product is subscription-based as they increase the likeliness that the customer will find value in the service and keep paying. Post-purchase emails can also be used to upsell other or new products or run referral campaigns.
Nurture emails: Nurture emails provide prospects with targeted content based on the problems they are trying to solve. This could be links to blog posts, whitepapers, or video guides. The aim of these emails is to provide the prospect with useful information that keeps your company front-of-mind and ultimately turns the prospect into a new customer.
Cold emails: Businesses sometimes send cold emails to people they haven't previously interacted with. These messages are typically the least effective form of email marketing. However, they may work in some types of B2B sales when they are highly targeted and sent from a personal account.
Promotional emails: Email marketers can use promotional emails to inform existing or potential customers about special offers, seasonal deals, or other sales promotions.
Check out this brief video to learn more
Need help with email marketing? Act! has you covered.
This guide outlines seven steps you can use to build an effective campaign.
Email marketing is valuable because it doesn't cost much, yet it is very effective. Here are some of the benefits of email marketing.
Email marketing is low cost
Email marketing is free other than the cost of software as you own your contact list. This means it is easy to get an excellent return on your investment. In fact, in its 2019 Marketing Email Tracker Report, the Direct Marketing Association put the ROI of email marketing at $42 for every dollar spent.
Email marketing is effective
Email marketing targets people who have already expressed an interest in your business or product, which means they require less nurturing than those with no knowledge of your company. You can also segment prospects and customers based on their needs and interests by tracking how they interact with your marketing material and through lead generation forms. This allows you to send them the content and offers that are most likely to interest them.
Email marketing is flexible
Email marketing is a flexible tool you can use throughout the sales funnel. Prospects in the early stage of the buying process will benefit from helpful information about their problem. When they start to interact with your emails, you can focus the content on your product. As the prospect gets closer to a purchasing decision, you can send them offers or discounts to convince them to buy.
When to not use email marketing
If your primary marketing goal is to increase the size of your audience, email marketing is unlikely to help. This is because you need to have a customer's or prospective customer's email address before you can communicate with them. If you want to increase brand awareness, you may be better off using other marketing channels, for example, paid ads, SEO, content marketing (e.g. webinars), or social media. 
Email marketing best practices
So how does email marketing work? When working on your email marketing strategy, there are some best practises you should follow. Here is a look at some of them.
Segment your audience and send relevant content
Segmenting your audience allows you to build targeted email marketing campaigns that use content each group is likely to relate to. You can segment your audience based on where they are in the buyer's journey as well as their interests.
Imagine a company that sells air conditioning units to both homes and offices. The company will benefit from producing a separate campaign for homeowners and business leaders.
Additionally, the company should consider where the customer is in the buyer's journey. Those in the early stages may respond to an email with an offer to download a product catalogue. People who are ready to buy are more likely to respond to an email that provides a quote.
Automate processes
Automating email marketing processes ensures that you send at the optimum time for conversion while reducing the amount of manual work your team needs to do. Just put in place effective triggers and let the software do the rest of the work. We discuss email automation in further detail at the end of this article.
Monitor and change what isn't working
Email marketing isn't an exact science. Some things you do will work as expected, while others won't. Most email marketing solutions provide insight and analytics you can use to optimise your campaign.
Is one of your emails recording a lower than average open rate? Then change the subject line or the time you send the email. Does one of your messages have a poor click-through-rate? Then consider moving the offer further up the email or changing the call-to-action.
A useful way to improve the efficiency and the conversion rates of your emails is A/B testing. To do this, just build two different versions of the same email then send them to a small sample of customers to see which one performs better.
One common thing A/B testing is used for is to improve open rate. Just write two subject lines for the same email, send both versions out to the same number of customers, and see which one more people read. Use the higher-performing email throughout your campaign. You could also test calls-to-action, the time you send your email, or different offers.
Don't spam your list
It can be tempting to contact your entire list with information about your product frequently. However, this can come across as spammy and make people unsubscribe. Stick to emailing your contacts valuable material that is related to their needs and where they are in the buying cycle.
Want more email marketing tips and best practices?
This guide contains all you need to know to increase leads and build sales with email marketing.
How to choose the best email marketing software for your small business
With so many solutions out there, businesses have plenty of options when it comes to choosing email marketing software and email service providers. The best one for your company will depend on several factors. Here are some of them:
The size of your list and the number of emails you send
Email marketing software providers will typically have different solutions depending on the size of your list and the number of emails you plan to send. Be sure to choose one that suits your email marketing goals. If you plan to grow your list and gain as many new subscribers as possible, you should also check that the software provider can grow with you.
Is the software compatible with the tools you use?
Email marketing platforms should integrate with your existing workflow. Here are some ways your email marketing provider can connect with other tools.
Solutions that work alongside your CRM can provide useful insight into the behaviour of your customers.
Email client integrations let you automatically import your contacts.
eCommerce store integrations allow you to set up abandoned cart emails.
How easy is it to create successful email marketing campaigns?
A good tool allows you to create beautiful emails quickly. Look for software that has premade, customisable email marketing templates and email designs you can use as inspiration. If you need more control, drag and drop email builders allow you to create templates that suit your specific needs.
Does the software provide any extras?
Many email marketing solutions come with extras that help you build effective campaigns. Look out for tools with landing page builders, lead generation form builders, and in-depth analytics.
Price
Price is an obvious—yet important—factor. To receive a positive return on investment (ROI) on your email marketing efforts, you need to choose a solution that is cost-effective while providing all the features you need. 
Act! combines customer management with powerful email marketing tools
Try Act! free for 14 days and see email marketing in action.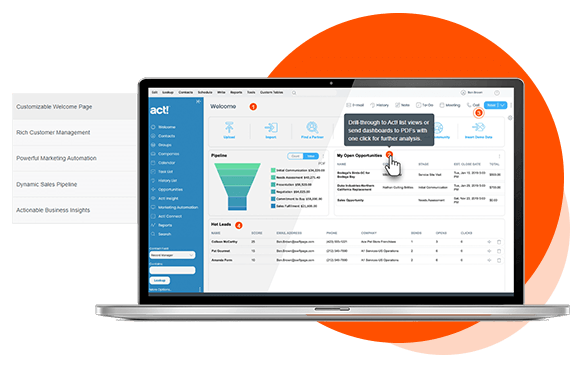 Automated email marketing
Marketing automation allows businesses to automate the sending of emails. This lets companies communicate with customers at the most effective times and send personalised emails while also reducing the amount of manual work marketing teams have to do. Here are some ways you can automate your email.
Automated email sequences Imagine someone requests your eBook. You can set up your system so that it automatically sends the material as soon as they ask for it. Then, over the following days or weeks, you can send additional messages about topics related to the eBook. Automated email marketing ensures this happens without your team having to do a thing.
Send emails based on customer interaction
Imagine the customer clicks on a link from within the eBook to your pricing page. This can be a sign that they are ready to buy. Automated email marketing will send the customer an email asking if they would like to schedule a call with a sales rep to discuss their potential purchase. The customer can use scheduling software to select a timeslot that is suitable for them.
Automated reminders
Imagine someone looks at one of your products but doesn't end up buying. Set up an automated email to contact the customer after a predefined amount of time, reminding them of their purchase.
Post-sales support Post-sales support is a crucial part of the sales process. If customers have a good experience and value your product, they are likely to stay customers. You can automate emails to be sent out once a customer buys your product to help them get the most out of it.
Still unsure what marketing automation is?
Then download our definitive guide to marketing automation and learn how marketing automation can boost your email marketing success.
What is email marketing? Email marketing is using email to promote your product or service.
Why use email marketing? Email marketing is low cost, effective, and you can use it throughout the buyer's journey.
Email marketing best practises: Segment your email list so you always send valuable content. Automate processes where applicable and try to avoid spamming your contacts. Also, monitor what is working and change what isn't.
How to choose email marketing software? Choose software that has the features you need. Be sure that the solution is suitable for your email list's size. Also, check whether it integrates with your existing tools.
What is automated email marketing? Some email marketing solutions allow you to automate processes. This helps you build more effective campaigns while reducing manual work.
Big results. Small investment.
Ready to take the first step?