Moving to a cloud solution?
35 questions for you and your vendor
Cloud computing is becoming the new way of working for many companies
Adopting Software as a Service (SaaS) is not for every organisation; however, its growing acceptance does mean that avoiding the cloud is becoming increasingly difficult.
Consequently, it makes sense to thoroughly investigate the potential of using a cloud services provider for applications such as CRM systems. This whitepaper sets out a framework for doing so.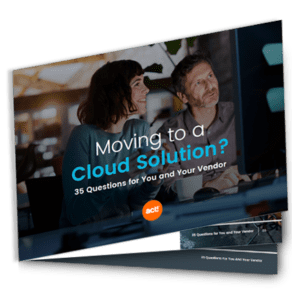 The biggest way Act! makes my work easier on a day-to-day basis is it allows me to come into the office and have my day planned out for me. It tells me who to call, when to call them, and what to say."
Brent Sullivan, Loan Officer
Homeowner's Financial Group
Big results. Small investment.
Ready to take the first step?