The 7 step sales process to
help you close more deals
Define your sales process and turn more leads into customers
This simple seven step sales process demonstrates exactly how you can turn prospective leads into loyal customers.
We break down the sales process into functional, actionable steps to help you improve conversion, increase revenue and grow your business. Test.
Why do you need a sales process?
The main reason you need a standardized sales process is consistency.
Orchestrating a sales strategy without a defined sales process is a mistake a lot of businesses make. Many companies believe a cemented customer acquisition strategy is enough, allowing sales reps to decide their own selling and closing techniques. This can cause a lot of inconsistency within your business.
For example, when customers refer prospective leads to your company, but those referrals receive a different sales rep, they may not be offered the same benefits, or the product may be presented differently.
This could cause you to lose that potential customer. The prospect's frustration at the rep's underdelivery may even cause negative reviews online and on social media.
This can create both short and long term impacts on customer relationships, as well as compromising brand image and identity.
A standardized sales process with clearly defined sales stages breeds efficiency and allows your reps to perfect their technique. It needs to work alongside your customer acquisition strategy, rather than one or the other. This is important for both customer satisfaction and lead conversion.
This sales process can also improve your team's overall consistency by adding structure to your sales flow. This can result in improved close rates, increased customer retention and, ultimately, more sales.
B2B companies that define a formal sales process experience 18% more revenue growth compared to companies that don't.1
In addition, you stand to benefit the following:
Less time spent prospecting: The seven step sales process will allow you to qualify the compatibility between your company and your prospective customer more quickly.
Ability to filter out low potential prospects: Efficiently identify quality leads through your sales process.
Training new recruits to a high standard: Following the stages of the sales process will allow your new recruits to immerse themselves in your company and hone in on their sales technique faster.
A consistent experience  for your customers: This in turn helps you build stronger and longer-lasting relationships with them.
A potential increase in your customer retention: An improved customer experience can lead to greater satisfaction and therefore an increase in customer retention.
A potential increase in revenue: Having a formal sales process will help you convert better and lead to consistent and sustainable growth for your business.
A sales process is a set of guidelines which a sales rep follows in order to convert a prospect into a paying client.
The seven step process is popular for its successful conversion rates. It breaks down a sales strategy into easy-to-implement stages.
The outline of the seven step sales process is:
Make contact
Qualify compatibility
Analyze needs
Pitch
Deliver proposal
Negotiate
Close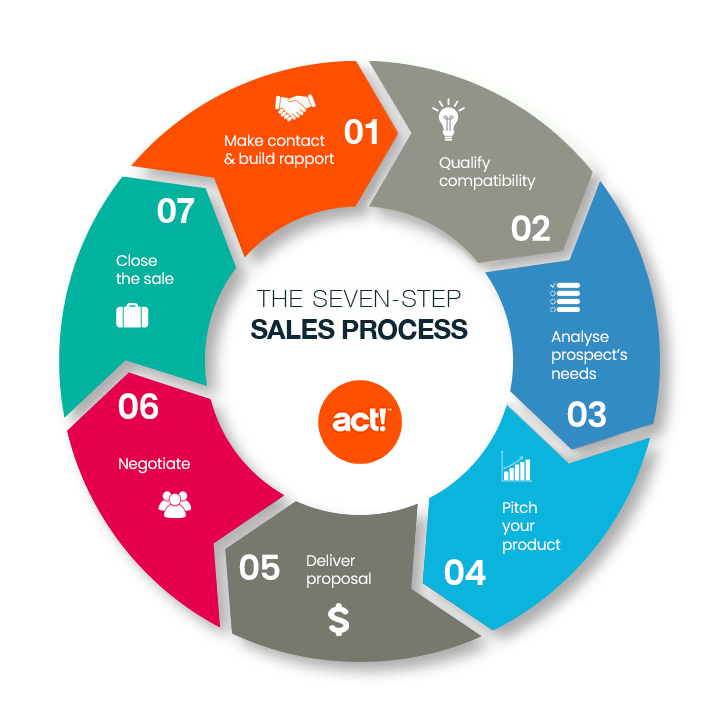 Sales process vs. sales methodology
There is an important distinction between a sales process and a sales methodology.
The sales process defines what specific steps you will take to convert leads into customers.
The sales methodology is how you approach each step. The methodology defines which sales techniques you will employ and what strategy you are going to use for each stage of the sales process.
A beginner's guide to sales management
Are you looking to master sales management and successfully lead your sales team, but you're not sure how to get started? Download our free sales management guide now.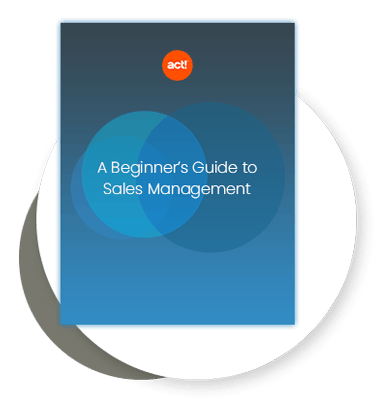 The seven step sales process is a framework for your sales reps to follow. It's important that this process is tailored to your specific target audience or your ideal customer for you to get the best conversion rates possible. You can do this easily by creating your company's buyer journey layout and defining what may cause a potential client to exit at each step of your sales cycle.
Step 1: Make contact & build rapport
The first steps of the sales process begin with lead generation and qualifying those leads. Establishing initial contact will vary depending on whether you use inbound or outbound marketing.
Leads may be generated by the marketing team and handed over to the sales team. You may also acquire prospects through networking, customer referrals or cold calling. These are prospects that have shown an interest in your company or you believe may require your services.
When you first make contact with a prospect, for example during a first phone call, you may want to ask questions such as:
Who would be responsible for making a decision on this product/service? (You always want to talk directly to a decision maker.)
When are you looking at reviewing your provision in this area?
When would you be available to chat through your requirement so I can advise on where we could best support you?
How did you hear about our business?
What's the best number to reach you on?
Track how every customer relationship is established in your sales management software. This will help you direct your marketing efforts.
Step 2: Qualify compatibility
Start evaluating the prospect's likelihood of becoming a customer (i.e. whether they will become a sales qualified lead or not). How specifically does your company or service meet the needs of your prospect? Qualify their budget, timeline, product needs and any other requirements.
For B2B sales, ask questions like:
What do you look for when buying this service or product?
What are your key considerations?
Where does this product or service fit into your business?
What should we consider to make sure it dovetails with your processes? (work schedules, IT systems, servicing etc.).
If you establish an incompatibility you can't overcome, it may be time to move on and seek a better match. Recording this in your CRM software will help you establish trends which may improve your lead generation activities.
Step 3: Analyze your prospect's needs
The needs assessment stage of the sales process allows you to understand your potential customer's needs and pain points, in order to ascertain how your service or product can address them.
The goal here is not to provide solutions or sell the product, it is to listen to the prospect, asking open-ended questions to create a discussion. This way you will leave the meeting with the best understanding of your prospect's issues and how to develop your pitch in order to resolve them. 
Some potential questions you could ask are:
What product or service are you using now?
How is it working for you and what would you improve?
What are the most important things you are looking for in our product or service?
What other products are you looking at?
Have you come across us before and what are your thoughts about what we offer?
Step 4: Pitch your product and handling objections
Now that you have identified the main concerns your prospect is facing, you can personalize your sales presentation specifically inline with those needs. Your sales pitch should demonstrate how your goods or services can offer solutions.
During the pitch you should run through each feature of your product or service, for example by using a PowerPoint presentation or similar, followed by the benefits of each feature. These benefits should always be personalized to suit the prospect's company or needs.
The previous stage of the sales process should also have fully qualified you to overcome any objections and answer all queries the prospect will have.
Step 5: Deliver the proposal
Similar to the pitching stage, the proposal stage of the sales process should be tailored to each prospect. It should comprise all the information you have gathered in the previous stages, including how your service or product will help them achieve their objective.
It is important to keep note and share any objections received at this stage, as you can feed that back to your team so your sales reps know what objections they may face in the future.
Include delivery schedules in your proposals, as well as a clear statement of pricing and any customer testimonials you may have.
Record the send date and set yourself a follow-up reminder in the event that they don't get back to you after a certain number of days. 
Step 6: Negotiate
You may have to amend your proposal to accommodate your prospect's requirements or any further objections. Sales professionals should utilize their knowledge of the prospect that has been built up through the sales process in order to answer these objections.
You should only begin negotiating once the client fully understands the offer. Consider what is high value to the client and low cost to you that could help close the deal. This could be quicker delivery, better servicing, longer payment terms or easier contract exit arrangements. Try to negotiate these before negotiating a reduced price.
The focus should be reiterating the benefits of your product or service to the prospect's specific needs and issues.
Step 7: Close the sale
The final part of the sales process is where your prospect converts into a new customer. There are a number of different closing techniques to choose from.
Once everything has been discussed, you should ask if they have any further questions. You can also ask if they have any areas of concern that they would like to talk through to ensure all queries are dealt with before signing the contract and closing the deal.
Why does your sales team need a CRM?
Try Act! free for 14 days to get to know its diverse set of features and explore how it can help you boost the performance of your sales team and increase revenue.
Make a note in your CRM software of prospects that drop out at each stage of the sales process and why.
You should also record the date of all contact and of each step of the process. This will show you how long it takes to close a sale. You can then see how your selling process affects cash flow and where improvements can be made.
Now the seven step sales process has been defined, you can start applying it to your business. Ensure your process always includes prospecting, connecting, research, presenting and closing and watch as your conversions, customer base and revenue grow.