Client Management Software
Act! makes it easy to build lasting customer relationships and provides the freedom to tailor your CRM to your business and industry needs – your adaptable, everywhere, connected workspace.
Build lasting customer relationships with Act! CRM
Make every interaction count with quick, organised access to highly personalized customer details. Keep rich contact details, emails, notes, history, activities, social media updates, and more in one easy to find place: the Act! contact record.
Act! works like you work, equipping you with a variety of configuration options from lightly personalized to completely customized. Set security rules, automate unique processes, and more. Highly trained Act! Certified Consultants1 can help create your Act! experience.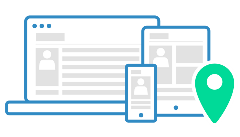 Act! goes where you go, enabling you to be productive from wherever you work—the office, home, or the road. Get to the details you need whether you're online or offline. Sophisticated offline sync capabilities keep everyone in the business up to date.
Act! likes what you like, keeping you connected to the tools and apps you love like Slack™, QuickBooks® Online, Shopify, and hundreds more via Act! Connect. Direct integration with Outlook®, Google™, and Excel enables seamless interaction.
What you get with Act! CRM
day free trial
easy to setup
Rest-assured, Act! is the proven, trusted choice
Act! is the proven, trusted choice of entrepreneurs, sales teams, and small and mid-sized businesses—and has been for over 30 years. Act! helped establish the CRM category and has been leading the way ever since, acquiring over six million users in 100+ countries, so you know you're in good company and in good hands. And while Act! is simple to learn and easy to use, we're here to help with expert technical support2, digital self-help, and a vast network of Act! Certified Consultants1 if you need it.
Don't take our word for it!
See why our customers love Act!:

I have been very impressed with the range of tools that Act! can provide and how it has been tailored to our needs."
There was an immediate improvement the moment we implemented Act! CRM."
I have been very impressed with the range of tools that Act! can provide and how it has been tailored to our needs."